Via Ferrata Routes
During the past 8 years there has been an interesting growth of Via Ferrata routes in the Alicante and Valencia Provinces and region of Murcia. Most of the routes climbed by our club are listed below.
See Photo Gallery.
Valencia Region
Via Ferrata Xorret de Cati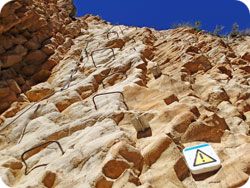 A simple route and suitable for beginners. It was constructed in 2009 on an unusual rock formation. The route is well equipped and includes several short traverses and a slight overhang on one section. The short distance between bolts is irritating as it requires constant clipping in and out of the safety wire. The ascent is 50 metres. There are two bolted rings for descending by abseil if required. Normal descent is via a short gully a few metres east of the summit and protected by a wire. Location Castalla. Estimated grade 2. Easy access. Duration 30 minutes.
Via Ferrata del Albir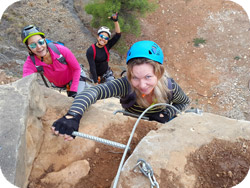 Constructed in May 2016 on the wall of the old quarry, the route consists of about 60 stemples at a total height of 30 metres. There are two minor traverses, a short left offset section and an overhang on the final 4 metres. Descent can be by foot or a 15 metre abseil. This is an ideal route for beginners and good preparation for the Ponoch Via Ferrata. Park 38.568260, -0.063322
Location of Via Ferrata 38.562983, -0.064524
Estimated grade 2+. Easy access.
Duration 45 minutes including abseil.
Via Ferrata del Castillo de Salvatierra. Height 780m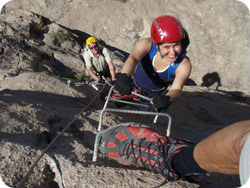 An easy route overlooking the beautiful Castillo de Salvatierra in Villena. The route is very modern and was extended in 2008 to include a second Tibetan wire bridge and another parallel route. To complete all sections it is necessary to reverse down the first wall to pick up the new route. Several short sections are vertical but should present no problem to anyone with grade 2 scrambling experience. Location Villena. Park. 38.633989, -0.858133 Start. 38.635766, -0.854023
Estimated grade 2+. Easy access. Duration 1 hour.
Serra del Cid. Height 1104m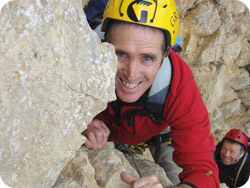 A well established Via Ferrata route. It was originally a rock climbing route in the 1970's but suffers badly from rock erosion. Numerous sections have wire and chain protection although there are several exposed ledges. Heavy rains often damages some pitches so it's advisable to climb in drier weather. Some experience in rock climbing is advisable for this route. Easy 25 minute access by track. Location Petrer. Estimated grade 4. Duration 1.5 hours. Park 38.475553, -0.746462
Monte Ponoch. Height 1186m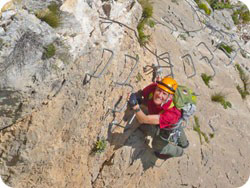 Constructed in 2006 this route is currently the longest in the Alicante Province. The route starts at 589 metres and terminates at about 770 metres. Exiting the summit is via a short track and then two abseils of 30m and 35m that return to within 30m of the start point. With several long vertical sections and one slight overhang this is not a route for beginners. Experience in rock climbing is advised because of the exposure and abseils. Easy 20 minute track access.
Location Polop. Park. 38.615921, -0.149682
Estimated grade 4. Duration 1.5 hours for two people.
Les Marujes.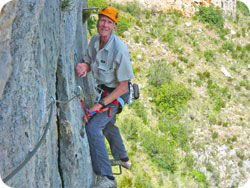 Installed at Tavernes de la Valldigna in July 2006 the route starts in the Barranco de Penya Roja. A 3 metre abseil is followed by a short Tibetan bridge and then 9 stemples. The main 55 metre vertical crag is then reached by a short scramble. A further 128 stemples lead to the the summit. The 25 minute descent is via the PR–38 hiking track. Several stemples are hard to reach and require some technical moves.
Easy 25 minute access.
Park. 39.069909, -0.278412
Start. 39.076278, -0.283716
Estimated grade 4+. Duration 45 minutes.
L'Aventador.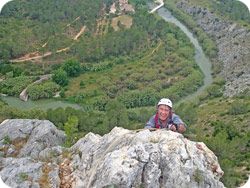 Located in Alboy just outside of Xátiva, L'Aventador is easily accessed from the Chopada recreational area. The via ferrata ascent is about 100 metres with no traverse. The stemples are widely spaced and there are several short overhangs which makes the route technically and physically challenging. There are beautiful views of the Río Albaida from the summit. The return route is anti-clock wise from the summit. Easy parking at the Cova Negra. Park 38.965476, -0.494008
Estimated grade 4+. Duration 30 minutes.
Penya del Figueret. Height 695 m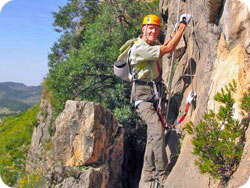 Construction commenced in August 2010 by Club Excursionista Relleu. The route has been well planned with vertical pitches and a traverse. The route ends on the Penya ridge located a few kilometres outside of Relleu. Total equipped ascent 75 metres. Exiting the summit is via a 25 metre abseil. Total return 45 minutes. Easy 10 minute access. Estimated grade 2+. Duration 30 minutes. Park 38.585759, -0.337945
Via Ferrata de Redován.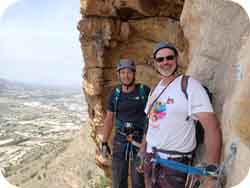 Located on the south face of Sierra de Callosa (572m) the Redován via ferrata is accessed from the top of Redován village.The route comprises of 2 zones with the first being ideal for beginners (grade 2) and the second upper zone for experienced climbers. There is a total of 4 suspension bridges, two being wooden and 2 cables. The longest is 42 metres and about 135 metres above ground. Other adventurous features include a swinging gate and caged iron staircase. Estimated grade 4+. Duration 1.5 hrs and 45 minutes return via steep track. Park 38.117015, -0.906593
See Route Photos
Catalunya Region
Morena de Montsant.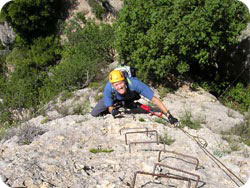 Located in the comarca of Priorat the route was constructed in 2002 and updated in 2005 by GEAM AEC Reus. It includes a Tibetan wire bridge. Access is via the beautiful village of Montsant. The total ascent is 250 metres. Return 1 hour. Easy access 45 minutes. Estimated grade 3 to 4. Duration 45 minutes.
Regina de Peramola.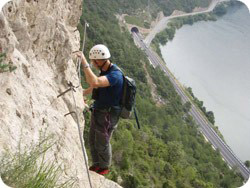 Located in the comarca of Alt Urgell the route was constructed in 1997 by Josep Veregara, Verena Masius and Xavi Vidal. In a beautiful location overlooking the Pantana de Oliana the route is spectacular with plenty of exposure. The Tibetan wire bridge provides added thrills. Total ascent 330 metres with several route grade options. Return 1.5 hours. Easy 20 minute access.
Estimated grade 4 to 5. Duration 3.5 hours.
Montserrat Teresina.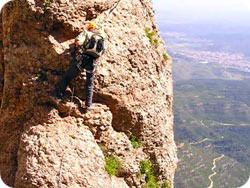 Built in 1993 by Antonio Garcia Picazo in the camarca of Bages. This was the first Via Ferrata installed in Spain and some pitches are very exposed and in need of repair. The route is spectacular with a final sting in the tail. The last pitch is a scramble up a slippery 40 centimetre wide chimney with a hard to reach chain. You then emerge from this dark crack looking like a hero with a viewing platform full of tourists looking down on you! Ascent 350m.
Moderate 45 minutes access. Return 1 hour 15 minutes.
Estimated grade 4 to 5. Duration 2 hours 30 minutes.
All heights, distances, times, grades and equipment and other information listed on this page are provided in good faith as experienced by the author but may include errors. Anyone attempting these routes should verify the information before commencing the activity in case of errors, route modifications or geological changes.
1. A hike is a long walk. 2. Ascent figures are accumulative starting from the car park. 3. Duration of the event includes short stops, a short lunch break and brisk pace. 4. Distance and ascent figures have been derived by GPS. 5. Position coordinates are in decimal degrees. 6. Spanish names are entered in the Castellano or Valenciano form.