Canyoning
An essential skill for rock climbers when there is no other safe means of descent from the top. Also known as rappelling in French, Barranquismo in Spanish, abseiling is a very dangerous technique.
There are numerous aspects of the activity that can go wrong from setting up the equipment to the actual descent. Belay devices can become jammed by ropes, clothing, belts or hair. Abseilers can fail to load their belay devices correctly and even a Prusik loop used on a wet climbing rope could cause jamming. An incorrect stance with the feet on the descent could result in a slip and injury on the rock.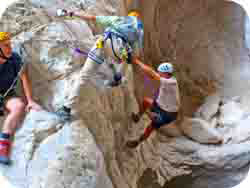 Abseiling is an unforgiving sport so it's necessary to be precise.
The word abseiling normally refers to a single pitch descent whereas canyoning refers to multi–pitch descents through barrancos, canyons or gorges. For canyoning we use durable static ropes.
Our single pitch abseils range from 22 metres to the awesome 80 metres of the Montgó Eye. Multi–pitch canyoning includes the Pas dels Bandolers, the Barranc de Sant and the eerie Barranco del Infierno that involves a total of 16 abseils and traverses.
Wet Canyoning is even more dangerous. For wet canyoning, we use durable ropes that don't absorb water. We also use special boots, harnesses, wetsuits and belay devices. See our wet canyoning adventures on YouTube. Other examples of wet abseiling can be seen on our friend Philip's web site Canyoning Philip.
More of our adventures can be seen on the Photos page with further details listed on the Canyoning Routes page. Only experienced climbers with Personal & Liability insurance are permitted to join us. If you want to experience Canyoning for the first time then we suggest you contact the Adventure Schools listed on our Useful Links page.
There are numerous barrancos in the Las Marinas Alta and Baja.
Some are wet and some are dry, some are short and some very high!
See our Photo Gallery.