Canyoning Routes
The following abseils and canyoning routes are located in the Alicante and Valencia regions but represent only a small proportion of those available.
The information on this Canyoning page will provide further guidance. See our Photo Gallery.
Single Pitch Abseil Routes
Mascarat Bridge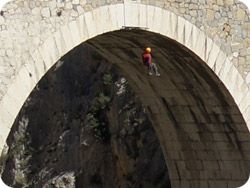 This is an abseil of 50 metres from the disused stone bridge into the Barranco Salido on the N332 at Calpe. The anchorage consists of glued in bolts with rings. Launching from the parapet can be difficult due to the weight of 10mm static ropes and high winds. Exit from the barranco is by an easy scramble to the Calpe Castle. From the castle, hike along the Toix cliffs above the sea caves and then climb a grade 2 strenuous scramble to the summit track. Return is via Toix TV and Toix Placa. Duration 5hrs. Distance 6km.
La Corda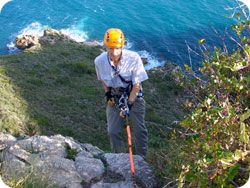 A single pitch abseil of 42m off the sea cliffs at Moraira. Approached from the El Portet to Punta de Moraira path the abseil offers stunning views of the cliffs and sea. Rope protection is advisable because of the abrasive sea cliffs.  
Duration is 25 minutes from start point and returning to top anchor.
Serra del Montgó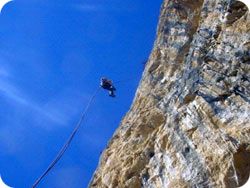 The highest abseil in the region. Montgó was recently classified as a Nature Park so using this route may not be possible now. The single abseil is 80 metres from the top of the conspicuous eye down to the cave entrance. Recommended gear is 2 x 80 metre static ropes, a safety top rope and 20 metres of static rope for constructing a cordelette with two apposing carabiners. There are no installed bolts. Note, when launching off the eye the total weight of ropes through the belay device will be 12 kilos. This slows the initial descent. A challenging and spectacular and abseil.
Duration 3½ hrs for three people including hike back to car park.
Note. Serra del Montgó became a Parque Natural and abseiling might not be allowed now.
Canyoning Routes
Barranco del  Infierno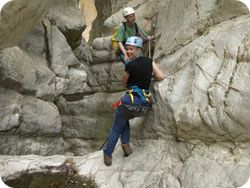 A series of abseils and traverses. A total of 16 abseils and traverses. Ranging from 5 to 10 metres with several 2 metre free drops, three short slippery scrambles and two traverses of 8 and 20 metres. Recommended gear includes 2 x 20 metre static ropes, 120 cm slings, 2 x quick draws, carabiners, helmets, harnesses, belay devices and boots or approach shoes. When partially wet it's advisable to wear wet canyoning boots. If it's partially wet and cold then a wet suit is necessary. Easy abseils. 
Duration 5hrs for six people. Length of Barranco 1km.
Park » 38.791101, -0.129077
Exit » 38.782547, -0.116410

Barranc del Sant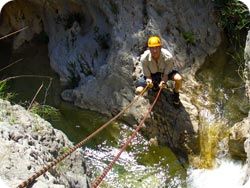 An abseil of 9 pitches totalling 90 metres ranging from five to 24 metres plus some scrambling down. The Barranco is normally dry but has one pot hole which can be difficult to exit when wet. There is no traversing involved but a short wire is sited at the 13 metre pitch for security so a couple of quick draws would be useful. The final pitch leads into the Barranc de Mela which is normally wet. Exit the barranco 100 metres upstream.
Easy abseils. Duration 3hrs for four people. Length of Barranco 300m.
Abdet Village car park » 38.694677, -0.257205
Sant start » 38.702645, -0.252850

Barranc Pas Tancat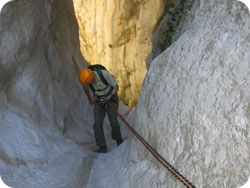 A series of abseils totalling 82 metres ranging from six to 30 metres. The first pitch is a 41 metre slope but there is a second belay point 11 metres down. There is no traversing involved. Length of Barranc 300m. Moderate abseils. Duration 2hrs for four people. First car to be parked at barranc exit.
Park » 38.696430, -0.131334
Start » 38.700693, -0.121709
Park for exit » 38.693695, -0.119175
Barranco del Pantanet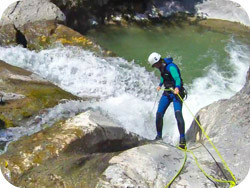 Located about 2 km from Alfafara the Pantanet is a simple but interesting route. There is no deep water and the pitches are 3, 4, 2, 3 and 4 metres. The barranco is wide with water flowing the full length. The return route is an easy hike on a 1 km track and takes about 45 minutes. At high water times there are very few dangers making the route ideal for beginners. The route starts at a small bridge about 200 metres from the park area. The Pantanet is dry in the summer.
Park » 38.783594, -0.566447
Pas dels Bandolers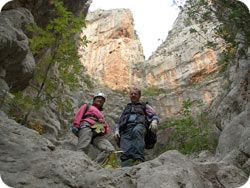 Abseils of 12, 26, 10, 29 and 44 metres. The first 4 pitches are bolted. The 29 metre belay point is on a small restricted slope which can be wet and very slippery. Vegetation can tangle the ropes. The 46m pitch is on a ledge with the only anchor being a small but strong tree. No is no traverse involved. Normally dry. Difficult route.

Duration 6 hrs for three people including return to park place.
Barranc de l'Estret de les Penyes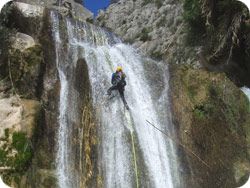 Located at Algar this barranc is wet all year. The approach is from the Riu Bolulla and involves pitches of 8m, 3m and 25m. The water flows through the barranc with pools of up to 2 metres or more deep. The exit from the final pool is through the cane wooded area. Then follow the stream through the Nispero Groves. An easy route. Duration 45 minutes for two people.
Park for exit » 38.660122, -0.098805
Park for start » 38.669040, -0.099058
Gorgo de la Escalera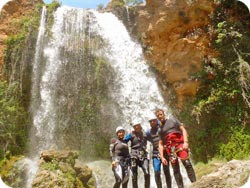 Located just outside the village of Anna the initial descent and parking is next to a bridge. The pitches are 3m, 10m, 3m, and 3m with a final abseil of 25m through the waterfall or 30m to avoid the waterfall. An interesting and varied route with an exciting finish.
The barranco is wet all year. Easy route. Duration 1½ hours for four people.
Park » 39.010839, -0.644985

Barranquet de Soler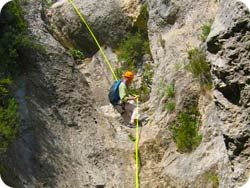 A semi-dry canyon located on the outskirts of Alcoi with a superb exit overlooking the town. The pitches range from 5m to 25m and terminate at the side of a Primary school. One pitch requires the setting up of a traverse line when the deep pot hole is full of water. The final pitch can be by abseil or Tyrolean cable. Two car shuttles necessary.
A moderate route. Duration 1½hrs for two people.
Barranc de les Raboses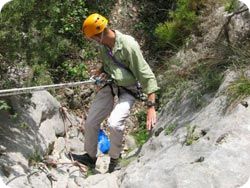 A semi-dry canyon located on the outskirts of the village Ibi. There are numerous short pitches and the longest is about 8m. Some can be climbed down, and others by a via ferrata traverse. There is very little water but some small pot holes could fill up in the winter. But even then wet suits are not necessary. Easy route. Duration 45 minutes for two people.
Barranc de Frainos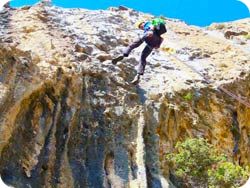 A semi–dry canyon located near Alcoleja at the western end of Serra d'Aitana and the Riu Frainos. There are seven pitches ranging from 6m to 46m. The barranc is restricted in the spring season due to the breeding of rare life form. So check with the FEMECV website before entering.
A two car shuttle is necessary.
Duration 3½ hours for two people including car shuttle time.
Barranc de Mela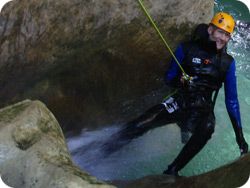 A wet canyon during November and April depending on rain fall. Located in the village of Abdet. There are numerous small pitches and several can be passed without rope when the pot holes are full. When dry, the longest pitch is about 12 metres. A two car shuttle is necessary. One at the head and one at the depuradora. Duration 3 hours for four people including car shuttle time.
Abdet Village car park » 38.694677, -0.257205
Start » 38.700747, -0.258135
Finish » 38.695810, -0.251612

Barranc Estret de Cardos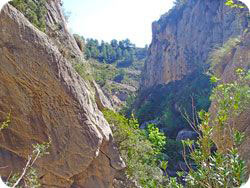 Although dry most of the year the potholes will hold some water after heavy rainfalls making it difficult to climb out of the two large ones. The first pitch of 15 metres is best abseiled in two sections to avoid any water otherwise a 5 metre climb up is necessary. Then a 20 metre traverse, 2 x 5 metre pitches and a final 14 metre abseil. This final pitch requires an 8 metre climb up by an existing rope but be prepared to climb without it. The return hike is east of the barranc end and marked with red paint spots. A two car shuttle is necessary. Duration 3½ hours for four people including return to second car.
Start » 38.669860, -0.008590
Note: Canyoning prohibited in this barranc between January 1st to June 30th due to nesting.
Barranco del Fanalic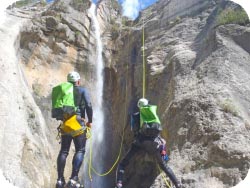 Located on the southern slopes of Abdet Village the first pitch is 30 metres followed by pitches of approximately 4m, 6m, 5m, 7m and 5m. The Riu Beniarda runs through the barranco which is completely dry during the summer. The length of the barranco is approximately 400m.

First pitch » 38.690500, -0.256616
Exit park place » 38.69409,-0.249282
Note: October 2019 tormentas have blocked the normal exit route.
Look for cairn on the left which indicates an alternative exit.
All heights, distances, times, grades and equipment and other information listed on this page are provided in good faith as experienced by the author but may include errors. Anyone attempting these routes should verify the information before commencing the activity in case of errors, route modifications or geological changes.
1. A hike is a long walk. 2. Ascent figures are accumulative starting from the car park. 3. Duration of the event includes short stops, a short lunch break and brisk pace. 4. Distance and ascent figures have been derived by GPS. 5. Position coordinates are in decimal degrees. 6. Spanish names are entered in the Castellano or Valenciano form.