Mountain Equipment Reviews
Welcome to our lightweight review on lightweight mountain gear.
Recent ergonomic research has shown that by reducing the weight on your feet by 500 grams you can yield the same energy savings as taking off more than 2.5 kilograms from your back. The more weight you carry on your back the more you stoop forward. For every 5 degrees tilt forward you place about 4.5 kilograms extra stress on your spinal discs.
Engaging in mountain activities three times a week for most of the year with the Costa Blanca Mountain Friends places a lot of stress on the body and equipment. The lighter we can move in the mountains the more energy we will have to complete the event safely without injury or unnecessary physical stress.
All the mountain gear reviewed below is actually used by our club members with an emphasis on lightness and durability. The gear is used in the Mediterranean climate of Spain for Mountain hiking, Scrambling, Via Ferrata, Canyoning and Rock Climbing.
Our gear and our bodies are subjected to abrasion and exposure from lime stone rocks, scree, heat, rain and sometimes light snow. Not forgetting the man eating thorny maquis!
Our reviews are ongoing and will be updated when more performance results are known.

Black Diamond super lightweight carbon-fibre Z Pole
Weight 265 grams per pair. (110 cm length)
The Ultra Distance model is a 3 section Z-Pole that uses the Black Diamond ultra-packable folding pole technology. A single push button allows the pole to be collapsed and quickly folded down to 36.5 cm. (110 cm version) The pole can be assembled rapidly and utilises a coated inner cord to draw the three sections together. The pole length cannot be adjusted but is available in 100, 110, 120 and 130 cm fully assembled lengths.
I used these poles in South Africa during 2013 and was easily able to pack them inside a 15 litre rucksack with 2 litres of water, lunch etc.

Five-Ten Canyoneer 2 Water Boots. 2013
Weight 1140 grams per pair.
Size 44 (UK 9.5)

Designed specifically for wet canyoning, this latest model provides more grip in wet and dry conditions with the improved stealth rubber sole. The new toe and heel offer more scuff resistance and the Polyurethane midsole provides better shock absorption. A 3mm Neoprene ankle collar provides warmth, support, protection and comfort. Definitely an improvement on the last model and probably the best canyoning boot on the market.

Klamath Mid Boot. Keen-Dry
Weight 1540 grams per pair.
Size 44.5 (UK 10) Class B0 boot.
A mid weight three season rugged boot.

Ideal for long hikes over easy or rough terrain the solid all-in-one rand and toe box construction gives it extreme robustness. When recently used in the Austrian Alps over rocky tracks the feet were fully protected from any impact thanks to the very thick sole, rand and toe box. Several negative comments. The tongue distorted when tightening up the top lace which caused some discomfort on the ankles particularly when scrambling. Also the sole is too thick for scrambling beyond grade 2.
Otherwise the boots are well made and very durable.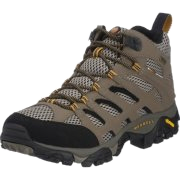 Merrell Moab Mid XCR. Gore-Tex
Weight 1032 grams per pair.
Size 44.5 (UK 10) Class B0 boot.

Classified as a three season lightweights these super boots are ideal for medium hikes and scrambling. The breathable mesh upper provides plenty of ventilation and the firm lacing holds the foot softly but firmly. This coupled with the grippy sole gives a very secure sure foot feeling when scrambling and rock hopping. One negative comment. A toe box rubber has become slightly detached from the toe.
Not a major issue as a spot of rubber glue secured it.

Meindl Respond Mid XCR. Gore-Tex
Weight 1010 grams per pair. Size 44.5 (UK 10) Class B0 boot.

Another three season boot but with a difference.
Straight from the box this super lightweight boot fitted like a glove. There is plenty of ventilation for hot climates and the sole being slightly stiffer than the Merrell Moab gives more cushioning when on rocky tracks. Easy lace adjustment holds the foot softly but firmly and coupled with the grippy sole one is given plenty of confidence when scrambling at high grades.
Probably the best pair of lightweight boots that we have ever used.

Salomon Fastpacker Mid GTX. Gore-Tex
Weight 976 grams per pair. Size 44.5 (UK 10) Class B0 boot.

An extreme lightweight boot but lacking in comfort for long hikes. During the 2nd week of use my right foot started to ache and I had to stop wearing the Fastpackers for a day. After 14 days of use on rocky tracks and easy scrambling on lime stone one of the soles started to delaminate. Then parts of the sole fell off. The boots were returned to fitness footwear with a letter of complaint for Salomon. A prompt refund was received from fitness footwear.

Garmin 62stc. Year 2013 model.
Probably the finest rugged waterproof GPS model in the consumer market. The superior specification of the 62stc includes a 5 MB autofocus camera with adjustable resolution and auto geotagging, a high sensitivity quad helix GPS antenna for greatly improved reception in wooded areas and deep valleys, a 2.6 inch sunlight-readable colour screen and various other improved features. But above all the use of a keypad with optional tones provides a positive reassuring way of navigating through the menus. Now in it's second year of use in our club and as reliable as ever.

Garmin Oregon 550t. Year 2009 model
A tough waterproof GPS unit and ideal mountaineering. Comes complete with 2 x 1.2v x 2000 mAh rechargeable AA size batteries.
Garmin claim a battery life of up to 16 hours and I found this achievable if you adjust the back light time out. The touch screen navigation is similar to an iPod and allows quick access to the full menu. Also included is a 3.2 MP auto focus camera. The images can be used when uploading tracks to many of the Google mapping web sites. Start up and satellite access is quick.
Having owned numerous Garmin GPS units over the past 15 years for sea and mountain navigation I have always been disappointed with the loss of signal when in mountainous or wooded areas. The highly sensitive receiver of the 550T overcomes that problem.
But the 550T is not a cheap device.

Bridgedale Active Light Hiker Socks.
A none wicking breathable sock ideal for warmer climates. Made from a mixture of polyester, polyamide and cotton.
A good test for a hiking sock is to see how long it takes to dry on the washing line compared to standard wool socks. The active light dried within one hour in the sun on my washing line but the wool sock took all day. Great for short or long hikes and scrambles. Wearing gaiters helps to protect socks when hiking through maquis.

Deuter AC Lite 16

,

18

and

22

litres


AC 16 model. Weight 860 grams.

Featuring the Deuter Aircomfort Advanced System this rucksack is ideal for use in warm climates. No more sticky backs and shirts.

The AC Lite comes complete with an integrated detachable rain cover. Light and compact several of us use the Deuter and find it ideal for hikes and scrambles. It's also small enough to put in the washing machine at the end of the season!
For long hikes and climbs a 28 litre version would be more suitable.