Rock Climbing
With an abundance of sports routes on the Costa Blanca it's sometimes difficult to decide where to climb. If the Toix sea cliff at Calpe becomes over crowded in the peak season then there are numerous inland and more sheltered climbing areas.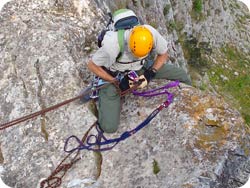 The Toix cliff is one of the most popular climbing areas for visitors because of the wide range of sport climbing grades suitable for beginners to the agile experienced climber. The area also includes multi–pitch routes. Typical sports climbing grades in Spain are: 4a to 4c, 5a to 5c, 6a to 6c+ and up to 9a+. Climbing areas and routes are best selected by using a climbing guide publication such as RockFax.
For more adventurous climbing there are numerous ridges and crags inland that offer a mixture of scrambling, climbing and abseiling.
Further details on some of these routes can be seen by viewing our Classic Climbing Routes page.