Classic Climbing Routes
Serra de Segária Ridge. Height 508m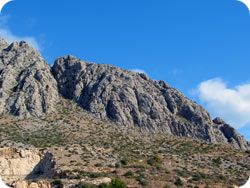 The approach route starts at the far east end of the mountain overlooking the motorway. The initial ridge is reached by a grade 3+ scramble or grade 4+ climb. Once on the ridge the 22 metre abseil point is within 300m just after a doughnut rock. We replaced the old wire and cord in 2007 with a bolted anchor and chain. The abseil terminates in a narrow col and from there we recommence our scramble to the far east summit flag post. Descent can be via the main col or through a small barranco on the north face. Alternatively continue west along the various ridges for further abseils and scrambles. A strenuous route. Duration 5 hrs + for short route with 4 climbers including return to car.
Distance 6km. Parking. 38.833086, -0.009409
Serra els Castellets. Height 806m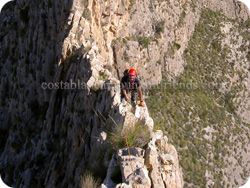 Sometimes called Monte Castellets this picturesque series of ridges extends about 5 kilometers from north west Finestrat to the Ponoch. The first south east ridge, El Realet, is a grade 4C climb and can be reached via the CV–770 Finestrat to Sella road. Climbing can also commence from the Sacarest north east end of the Castellets. Along the complete ridge there are numerous abseils, climbs and ridge traverses with plenty of scrambling. Although we have never completed the entire ridge it has been estimated that more than 50 hours might be required.

See YouTube video covering our climb of the first Castellet, El Realet.
Serra de Bérnia. Height 1125m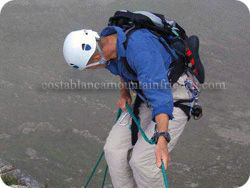 A long traverse of the Bernia East Ridge descending via the main col. The longest abseil is 20 metres. The abseils are intermingled with numerous grades 2 and 3 exposed scrambles and a grade 4C rock fin climb. The route is marked with red paint spots. The abseils, traverse and climb are all bolted. Allow 7 hours for four people. Distance 6km.
Puig Campana Ridge. 1408m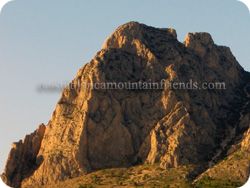 There are number of climbing routes available on the Puig but Espolón Central is the most popular. With 13 pitches ranging from 25 to 30 metres and with several at grade 4 +, it can be a long day. Allow 6 to 10 hours depending on group size.
Serra de Benicadell. Height 1104m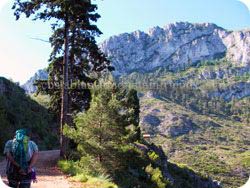 A classic ridge climb involving grade 3 scrambling and up to grade 5 rock climbing. The first pitch is grade 4 + and the second is grade 4. The bolts start to the left of a small cave. The second pitch continues straight up with plenty of solid rock. Then follows a gruelling 530m of up to grade 3 scrambling. The last two climbing pitches, grade 4 and grade 5 are near the summit. The initial climb starts at an altitude of about 590 metres. GPS 30 S 0726005 UTM 4301490. Easy climb but strenuous scrambling. Access from the car park to the first pitch will take about 30 minutes. For four climbers allow at least 4 hours for the full ridge climb to the summit. Return from the summit to the car park will take about 50 minutes.
Typical sports climbing grades in Spain are: 4, 4+, 5, 5+ 6a, 6a+ , 6b, 6b+ and up to 8c+.
All heights, distances, times, grades and equipment and other information listed on this page are provided in good faith as experienced by the author but may include errors. Anyone attempting these routes should verify the information before commencing the activity in case of errors, route modifications or geological changes.
1. A hike is a long walk. 2. Ascent figures are accumulative starting from the car park. 3. Duration of the event includes short stops, a short lunch break and brisk pace. 4. Distance and ascent figures have been derived by GPS. 5. Position coordinates are in decimal degrees. 6. Spanish names are entered in the Castellano or Valenciano form.