The club.

Formed as a mountain club in 2004 by Vic Warth with the aim of creating adventurous hiking, scrambling, canyoning and climbing routes for a small group of friends, the club soon attracted a loyal following of local and visiting hikers, scramblers and climbers from various countries including Spain, Ireland, Germany, Holland, Denmark, France and the UK.
The club's emphasis is on fitness, friendship and adventure.
A specially designed club badge is presented to members once they have proved their ability within the group. Hiking and scrambling events take place on Wednesdays and Saturdays with Mondays being reserved for extreme mountain events and new route making.
Finally, the club is not a commercial concern and is open to all fit and compatible hikers and climbers whatever their ability.
The leaders.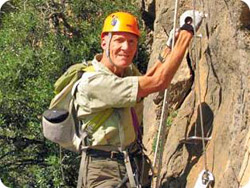 Vic's hiking and climbing experience on the Costa Blanca dates back to 1989. His mountain training and experience in Spain, UK, South Africa and the USA forms the basis of the club's adventurous mountain programme.
Qualified first aider.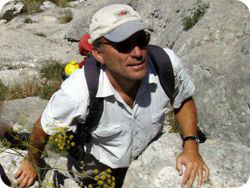 Alfred gained his initial mountaineering experience in the army and makes annual visits to the mountains around Munich and the Alps. He has been hiking and scrambling with our club since 2005. Making new routes over rough terrain is his passion.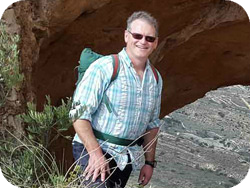 Richard our gentle giant is an accomplished rock climber and has completed mountaineering courses. There are very few hand holds or ledges that he can't reach and his versatility is a great asset to our club. Climbed the 6 highest peaks in the Alps as well as the Matterhorn.
The friends.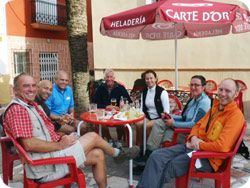 Comprised of various nationalities we all share a common interest which includes the beauty of the mountains, the fitness level that can be achieved and the genuine friendship that such activities produce. And then the rewarding glass of cerveza or vino afterwards! Whether exceeding our personal physical limits or overcoming a fear of heights all these factors create a personal sense of achievement and a great respect for each other. Being a member of our club is not just about what the club can achieve for you it is also about what you can contribute to the club.
The location.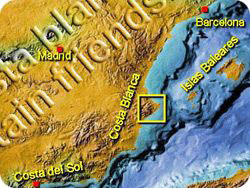 The Spanish Costa Blanca extends from Gandia down to VillaJoyosa or La Manga depending on what map you use and covers about 186 kilometres of coast line. Along most of this coast the mountains extend inland from 1 to 35 kilometres or more. This represents quite a large and varied area for mountain activities. Our mountain events generally cover the 30km area inland between Gandia and Benidorm. Travelling inland to some mountains often takes one hour or more.