News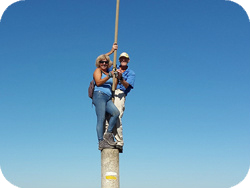 Up the pole 2016.
Not content with receiving her club badge on the summit of the Castell de Aixa (607m), Lupita decided to go an extra 2 metres with Vic....up the summit post!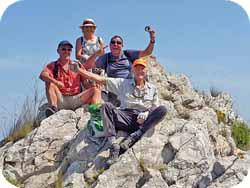 Adam receiving his well earned club badge during a grade 2 scramble on the Ferrer ridge in June 2016.

Please welcome Richard as the latest addition to our team of leaders. Full details of his abilities can be viewed on this link.

Following the high number of injuries incurred by Charlotte over the past year the club finally decided to fund the design and construction of a special protective suit for her. The latex suit works well and fits her OK as you can see so hopefully she will remain accident free during 2015. Unfortunately she didn't take the suit with her to Andorra in January and broke her wrist in a skiing accident!

Our website has been re designed and is now responsive to all screen sizes including mobile phones, Tablets and iPads. Responsive web design offers easy viewable information on PC's and all other devices.

Also in June 2013 Jesús was awarded a club badge but he decided to break with tradition and receive his badge while drinking a caña de cerveza at Bar Placeta, Benissiva.

June 2013 was a time for club badge presentations and one of the best places is on top of the Forada in La Vall de Gallinera. High up on the arch ridge both Shay and Dave scrambled to reach their well deserved club badges.

During one of our car shuttle arrangements in May 2013 a pair of shoes was left in the wrong car and the owner had to go home without them. The shoes were in Charlotte's car in Denia so Shay who works for MacDonalds arranged to transport them from her Denia restaurant to the Javea branch. The shoes were then picked up from Javea and given back to Jesús on the next hike. They were packaged in a McDonalds bag. I'm loving it!

Two more club badges were presented at the Cova Tallada on the same day when Gill and Maxine started their descent to the caves. All three girls had waited 3 years to receive these special badges.

A club badge was presented to Jackie in May 2013 at the Cova Tallada during a hike from Javea to Denia. With the sea swirling around the rocks and blue skies it was a perfect setting for such an event.

Our new mountain activities photo gallery has now been uploaded. The gallery is integrated with the web site and can be viewed from the main sidebar menu. Designed in HTML5 the gallery will resize when viewed in most Smartphones. Design work has already started on a mobile compatible version of our web site.

Our second club badge presentation this year took place in June 2012. Caroline first hiked with us in 2006 and finally received her badge in El Barranc de l'Encantada. The weather was hot but fine and the flowing water made it a beautiful setting for all nine of us to remember.

In May 2012 our friend Ellen was presented with her club badge. Being presented with the CBMF badge on the end of a walking pole was a bit of a shock for her. An unusually high temperature of 31C was also a shock for us all on this special occasion.

During March 2012 we were joined by three young men from the Danish army. One had completed a six month tour of Afghanistan and the other two are due to depart for the Helmand province in August. Therefore, a suitable extreme mountain event for them was the Ponoch Via Ferrata and two abseils led by Taz.

Our July 2011 Pyrenees expedition included several of our old routes and a spectacular ascent of 2576 metre Pico Moleta near Canfranc.
The route started in the Col de Ladrones and followed the enormous Canfranc water pipeline which feeds from the lakes. Our planned ascent of Pic du Midi de Ossau was cancelled due to bad weather. With two long abseils involved it would have been far too dangerous to attempt.

Our 2011 summer party took place again at Vic and Helen's villa. Live guitar music was provided and the highlight of the day was when the boys all sang the Irish Wild Rover song led by Edward!

Philippe and friends keeping cool on the Rigidalstock Engelberg via ferrata in the Swiss Alps June 2011.

Philippe receives his club badge after waiting 4 years! Although Philippe has been climbing with our club for 4 years, every time we prepare to give him his badge he disappears and starts another DIY project on his villa! On June 11th 2011 in the Barranc del Infierno in the La Vall de la Laguar Vic was able to present Philippe with his long overdue club badge. Assisting Vic was Maxine, Jill, Caroline, Chrissie, Denise, Jackie and Alfred.

She's off again!
Not content with having hiked the Camino de Santiago in 2009 our Charlotte departs for another epic pilgrimage in April 2011 along the Via de La Plata. This route starts in Seville and passes through Caceres, Salamanca, Zamora, Ourense and then finally Santiago de Compostela. The total distance is 1000 km and the route normally takes 6 weeks to complete. Charlotte's travelling log can be viewed on our Camino de Santiago de Compostela page.

Snow shoe walking in the Aigües Tortes, Spanish Pyrenees February 2011. Here's a report from Ellen. If you are no good at skiing the alternative is snowshoe walking.
In my video I show images of my visit in February 2011 in the Aigües Tortes region in the Spanish Pyrenees. We walked from Arties to the Restanca hut, then to the Ventosa hut, after that to the Colomers hut. We could not cross to the Amitges hut because of the avalanche danger, for that reason we descended to Trédos and finished with a day walk through the beautiful Redu valley.
My slides will give another insight into our adventure.

Our July 2010 mountain club summer party was held at Vic and Helen's villa in Jávea.
We celebrated two wedding anniversaries and danced to live music by Jim G. Stewart. A fabulous giant paella was cooked by Ross and Diane. Good weather and good food.

Our planned 3rd expedition to the Spanish Pyrenees was cancelled due to an accident.
Vic our expedition leader fractured his L3 vertebrae in June 2010. The accident occurred while horse riding, not mountaineering! The Pyrenees expedition will proceed for 2011 and will include some of the highest peaks including the daunting 2884m Pic du Midi d' Ossau in the French Pyrenees.

July 2009. This year's expedition to the Spanish Pyrenees encountered more glaciers and hotter weather than 2007. Based in Castiello de Jaca the team comprising of Edward, Gareth and Vic accessed the peaks from Candanchu, Jaca, Refugio de Lizara and El Riguelo. Most were located within the Sierra de Aísa and included the following.

Penya Oroel 1769m
Bisaurin 2668m
Pico Llena del Bozo 2566m
Pico Llena de la Garganta 2599m
Pico de Aspe 2645m. Mallos Lecherin 2452m. Pico de la Garganta de Borau 2566m. El Sombrero 2562m. Pico de la Garganta de Aísa 2502m

April-May 2009. Our Charlotte achieved her long time ambition to hike the Camino de Santiago de Compostela, the way of St. James. Not content with completing the mammoth 800 km hike she continued on to Finisterre and Muxia.
For anyone contemplating the Camino de Santiago hike Charlotte is prepared to share details of her adventure and give advice.
Email me through our general Contact page and we will pass your message directly to her. A full introduction to the Camino de Santiago can be viewed on the following web site.
www.santiago-compostela.net/

July 2008. This year our summer expedition was in the Sierra Nevada mountains where we climbed Mulhacén the highest mountain in mainland Spain at 3479 metres. The total ascent was more than 2000 metres and the going was hard. However, we set a steady pace and reached the summit in 5.5 hours.
Total circuit time was 9.5 hours.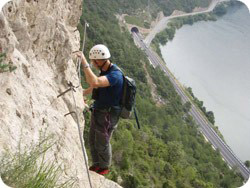 July 2008. The urge to experience more Via Ferratas routes took us to Catalunya for 5 days.
There are more than 30 Via Ferratas in the Catalunya region but due to the long distances involved it was only possible to climb five of them and recce the others for year 2009. The routes of Regina de Peramola and Montserrat Teresina were spectacular and no doubt equal some of the best in the Dolomites. More Via Ferratas in Catalunya are definitely on our calendar for July 2009. See more photos.