Welcome to the Costa Blanca Mountain Friends
....mountaineering in the Alicante and Valencia Provinces.
Both provinces offer excellent Walking and Hiking routes and most are now well marked by the local councils. For the adventurous there is much more to enjoy.
Scrambling, Canyoning, Via Ferrata and Rock Climbing are extreme mountain activities and many of the routes can be found on the Internet including our own website resources.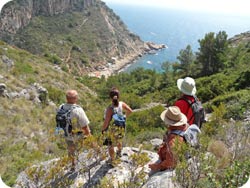 Some of our time is spent creating new routes but we regularly climb our old favourites which include the
Puig Campana, Monte Ponoch, Serra del Montgó, Cavall Verd, Ferrer Ridge, Malla del Llop, Serra de Segária, Monte Castellets and Serra de Bérnia.
Once described as the world's near perfect climate by the World Health Organization, the Costa Blanca is ideal for mountain activities all year round.
Extending from Alicante to Gandia and inland to Alcoi our weekly events take place on Mondays, Wednesdays and Saturdays. Guests are welcome but we do require a reasonable level of fitness. If you are interested in joining our club then have a look at the About and Contact pages.